We're pleased to offer the following services at Metro Animal Hospital
Client education is important to us. We strive for every dog and cat to receive the best care possible in our clinic and at home.
If you do not see a service you may be in need of, please do not hesitate to call our clinic. Our staff will be happy to assist you with your question!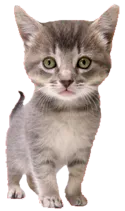 Medical services
Full physical exams, microchips, vaccinations, puppy & kitten care, prescription diets, pain management, digital radiography, ultrasound, and flea/tick & heartworm prevention.
Laboratory
In-house lab work including complete blood counts, serum chemistry profiles, heartworm testing, feline leukemia testing, cytology, urinalysis, and fecal tests for internal parasites. We also team with Idexx Labs to be able provide the most comprehensive diagnostic options for our patients.
Surgery
Spays, neuters, growth & mass removals, CCL repair (surgical stabilization of the knee joint), cherry eye repair, and foreign body removal.
Dental
**Please note that we are searching for a new dental doctor at this time!
We are currently searching for a new doctor with a specialization in dental care. We wish the best of luck to Dr. Frances and her new career! At this time, we are only able to offer teeth cleanings and full mouth digital radiography to our established clients. Any further dental work will unfortunately need to be referred elsewhere at this time. Once our new doctor is settled, we will be back to offering routine care, teeth cleaning, full mouth digital radiography, and mass & tooth removal for our clients.
Online Scheduling
Our appointment book is computerized, which is integrated with our online reminder system. This allows us and you to efficiently make appointments for you and your pet. For established patients, the ability to schedule online 24/7 is an added convenience. Our receptionists and team will attempt to accommodate all requests to the best of our ability. However, we still recommend you call us for bookings to ensure that enough time is allotted to have our doctors examine your pet.
We may be available for urgent and emergency care. We are unable to offer overnight or critical care. Please call ahead. Our staff will do their best to accommodate you and your pet. If we are unable to offer your pet our utmost attention, due to other emergencies, sick appointments, or staffing, we may refer you to another facility for your pet to be seen immediately. Please also keep in mind that depending on the emergency, other facilities may be better equipped to care for your pet.
If your pet has ingested poison, chocolate, raisins, or other dangerous foods, please contact ASPCA Pet Poison Control at (888) 426-4435.
If your pet is having a true emergency, PAW Health Network is the nearest emergency clinic to our location.
PAW Health Network 24 Hour BluePearl Pet Hospital 24 Hour BluePearl Pet Hospital Fri-Mon UW-Madison Veterinary Care 24 Hour
(715) 693-6934 (920) 993-9193 (920) 494-9400 (608) 263-7600
1440 I-39 Frontage Road 4706 New Horizons Boulevard 2141 Lime Kiln Road 2015 Linden Drive
Kronenwetter, WI 54455 Appleton, WI 54914 Green Bay, WI 54311 Madison, WI 53706